This new button is especially important for forums like "Troubleshooting & Software Aids". It can be used by the
topic starter
and by
Moderators.
Example:
You opened a topic like Soramunesanzun did and called it something like "How to render widescreen in sony vegas 8".

A user helped you to find a solution and the problem is solved now.
To help the moderators keeping an overview, now you can go edit your first post in this topic and press the SOLVED BUTTON!

Below your editor you can find the "
Options
".
(press the "plus" icon on the right to open it, if it's necessary)
After you pressed the Solve Button, the title will be modified and "
[solved]
" will be added. Of course you can also just write down "solved" into your title, but this way it goes faster and all "solved topics" look the same way, so it's obvious and easier to get an overview of the topics where still help is needed.
Please use this button, it really is helpfull not only for moderators but also for all users who want to help people!
If you have questions, you can ask them here.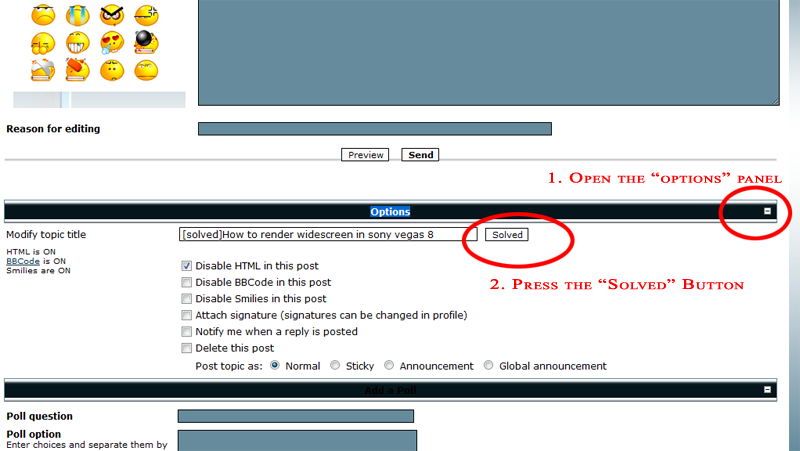 ___________________________________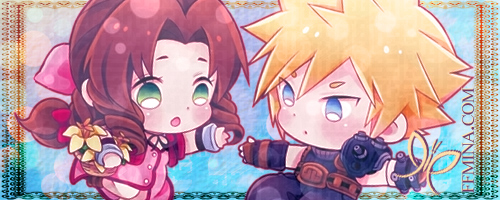 Youtube ~ Tumblr ~ Facebook ~ DeviantArt ~ Clerith Videos

Ohhh that's very useful :]
Yayyy good job Mina
___________________________________
That's a great addition to the forum Mina! :D
___________________________________

Proud member of Legacy Hearts Studios and leader of Tears From An Angel Studios.

Please visit our website and help us improve our work! Leave us your suggestions and comments!
Wishes can come true! But not if you just wait for miracles. Miracles are things we make for ourselves.
___________________________________

That's a great idea. There'll be no confusions. :)

---
Permissions in this forum:
You
cannot
reply to topics in this forum