Updates on 24th of February, 2014:
- Glitchy
Profile Preview
has been fixed 
   ---> If you have visited any members' profiles within the past weeks, you may have noticed that 
   things looked upside down. This happened when the
advanced profiles
were activated. 
   I'm still working on the look of your profiles and you receive more options to present yourself here. 
   For now it should look at least clearer than before.
- Toolbar activated
   ---> You can open the drop-down menu if you click on the "Welcome" button and 
   easily reach your stuff (Profile, Topics, etc.)
 ---> Click on "
Notifications
" and go to "
See all the notifications
" to configure your notification settings
   ---> You will be informed about news for any notifications you have enabled "
In the Toolbar" 
   ---> You can visit the content of your notification straight by clicking on it   
EXAMPLE:

- Added a floating button for the Chatbox!
   ---> Now you can access and close the Chat at any time   
Preview:

- New Quote and Edit Buttons
   ---> You can use the "Multi-Quote" function by simply clicking on "Multi-Quote" below any posts 
   you want to quote and then click "Post Reply" - all selected posts will be quoted into your Message. 
   ---> If you want to edit your post, you can select between "
Full
" or "
Fast
" Editor.   
Preview:

Coming soon:
- New
Board Rules
- New
Download Section
- Boardinformation Updates
- I'm Vidding It! -
Youtube-Projects and More
- 
On February 28th,
all users who have
zero posts for more than 6 months
are deleted from our forums, because we are updating the forums and want to keep leech at minimum.
Moderators:
- We are still looking for new members! If you are interested, please check out this topic: 
Moderator Application
- 
Lacrymosai
joined our team in January.
- 
Chiron2009
and 
cstar
 rejoined the team.
Last edited by Mina on 1st November 2015, 10:31 am; edited 2 times in total
Updates on 25th of February, 2014:
- Navigation revised
   ---> "Home" was replaced by "News" and leads to the latest update-post
- Profiles
   ---> For some reasons there appeared two fields for your Facebook and Twitter contacts. The duplicates were removed, so please check your profile and if need be, add your links again. Sorry for the trouble. 
- Topic Prefix
   ---> When you open a new topic, you can choose the type of your topic now. 
   ---> You can also change the type, if you edit your post. 
   ---> So far there are four types of topics: Request, Tutorial, Video, SOLVED
- Buttons and Icons
   ---> New Thanks Button 

   ---> Reputation Points are more obvious in Topics now          


   ---> Online Icon has been changed 

- New ColorPicker
   ---> You can make slight changes of the forums colors as you like.
   ---> Scroll down to the bottom and open the colorpicker and chose your color (see preview below)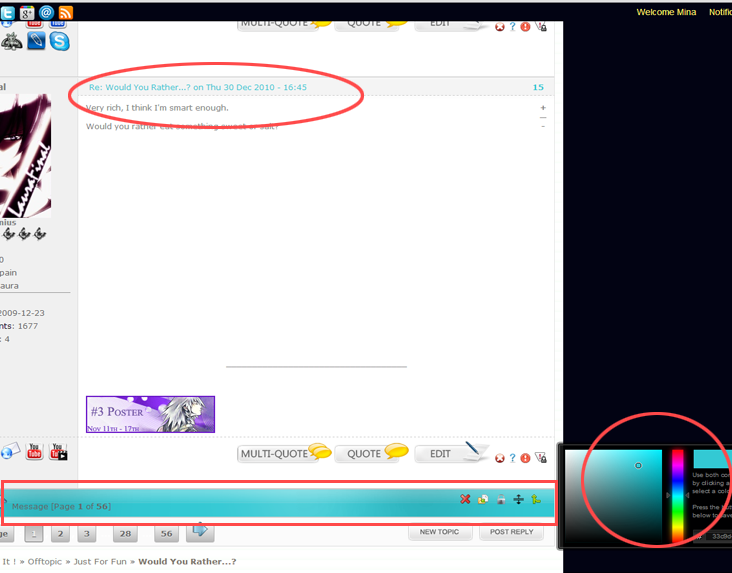 Last edited by Mina on 27th February 2014, 3:45 pm; edited 1 time in total
27th of February, 2014 - NOTE:
After some time of revision, the forums are accessible again. However, some updates are still pending. I apologize for any inconvenience. I currently don't feel healthy, so this may take some time to complete. 
Sincerely, 
Mina
Updates on 28th of February/1st March, 2014:

Inactive Users
---> 380 inactive users have been deleted.
Your Profiles
---> The Profile View has been revised. Check out the preview of your profile now! 
Icons
 ---> Online Icon now appears next to the username: 

Moderators
 --->  
LeanneCresent
 joined the team. 
Thank you :) I will give my best :)
1st November 2015:


Forum structure is being updated

Outdated topics are sent to the Archive

2nd November 2015:


Similar topics
---
Permissions in this forum:
You
cannot
reply to topics in this forum